GIVE THE GIFT OF WELLNESS!
Scrambling for last minute stocking stuffers? Here are some suggestions from 5Spirit Oils. I created 5Spirit as a way for my patients to treat themselves -- all the oils are therapeutic grade so each oil or product is like an acupuncture treatment in a bottle. They treat the mind body and soul -- Who doesn't need that? And there is something for EVERYONE on your list….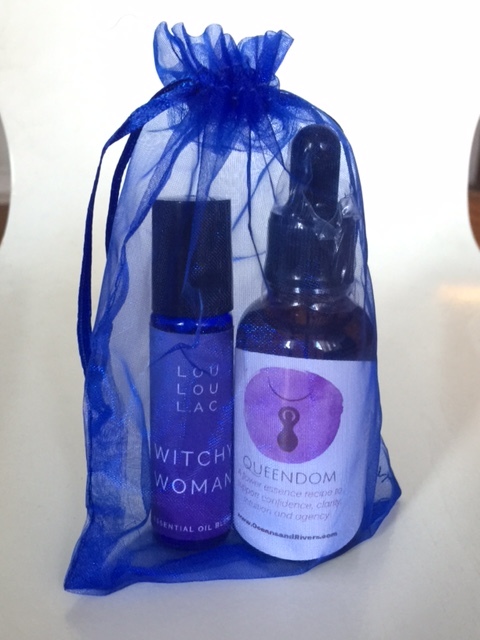 Winter Goddess Gift Set. Queendom Flower Essence is an elixir specially created for women stepping into positions of leadership and influence. It helps us to trust our intuition and move through the world confidently connected to our Feminine Power.
Combined with Witchy Woman Essential Oil blend - dark, and mysterious. Supports Yang rising from the depths of Yin. Evokes the powerful dark feminine. A delicious blend of essential oils to evoke the Winter Goddess: Frankincense, Ravensara, Palo Santo and Dark Patchouli. $50
For the Sexy Bearded Man in Your Life
Winter Beard Oil. With Vetivert and Rosemary in a sweet almond and jojoba base. Softens, conditions the beard and smells like a man should….seriously the Vetivert will drive you crazy, in a good way. $35
Precious Metal Scalp Oil. With Saro and Holy Basil. Conditions the scalp, promotes healthy hair growth AND opens your crown chakra to the upper realms! It smells divine because it is -- holy basil oil is used by meditating monks to reach enlightenment! $30
For the Constantly Sniffling
Immune Plus Herbal formula and Immunity Essential Oil Blend. Give the gift of a healthy immune system! The herbal blend strengthens Wei Qi, which is like a hidden force field keeping out illness. Immunity is a natural antibacterial and antiviral and can be used in baths and diffusers. Together they will keep you well all winter! $50
For the Stressed Out and Freaked Out
Winter Greens Bath Salts. These are intense times. What better gift than a "time out"? Epsom and pink himalayan salt. Juniper, Atlas Cedarwood, Black Spruce and Birch. The perfect winter soak. Soothes sore muscles, and calms the spirit. Supports the Kidneys, adrenals, and nervous system. Strengthens the constitution. $20
For the Wellness Practitioner
5 Element Practitioner Set. Winter Greens, Spring Fling, Heartbreaker, Earth Mamma and Immunity. One oil for each season and each element. An easy way to incorporate EO's into your practice, and into our life! Mix with massage oil or use on acupuncture points to treat physical imbalances. Point suggestions included. Can also be used in baths or diffusers. $100
CALL OR EMAIL FOR LAST MINUTE ORDERS!
LOULOU@LOULOULAC.COM
917-686-6602